From July 1, 2005 to June 30, 2021, Dr. Hatch led and guided the community of Wake Forest University. That time was marked by visionary leadership, a desire to strengthen the collegiate university, a commitment to educating the whole person, and a drive to continue to achieve excellence in the spirit of Pro Humanitate. Here are several of the memorable moments of Dr. Hatch's presidency.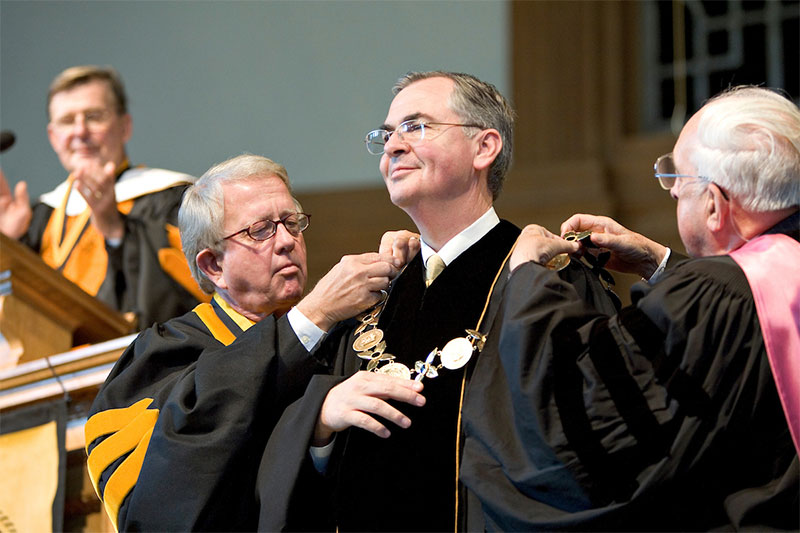 Inauguration
Nathan O. Hatch was formally inaugurated as the 13th President of Wake Forest University on Oct. 20, 2005. He was invested with the Collar of State by Trustee Murray Greason ('59, JD '62) and Provost Emeritus Dr. Edwin G. Wilson ('43).
---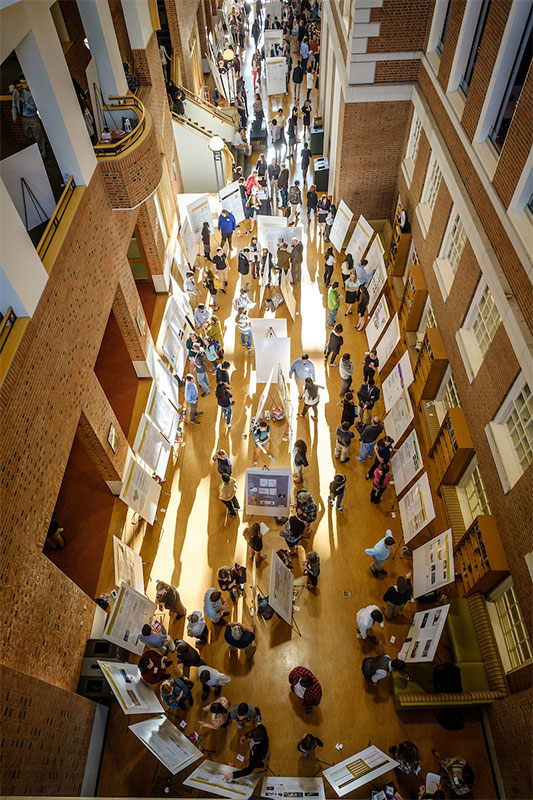 Commitment to Faculty-Student Engagement
It is reported that when undergraduates have a mentor, they are twice as likely to thrive after college. One of the ways Wake Forest promotes this idea is through mentored research opportunities – where students and faculty collaborate on research and present their work on Undergraduate Research Day.
---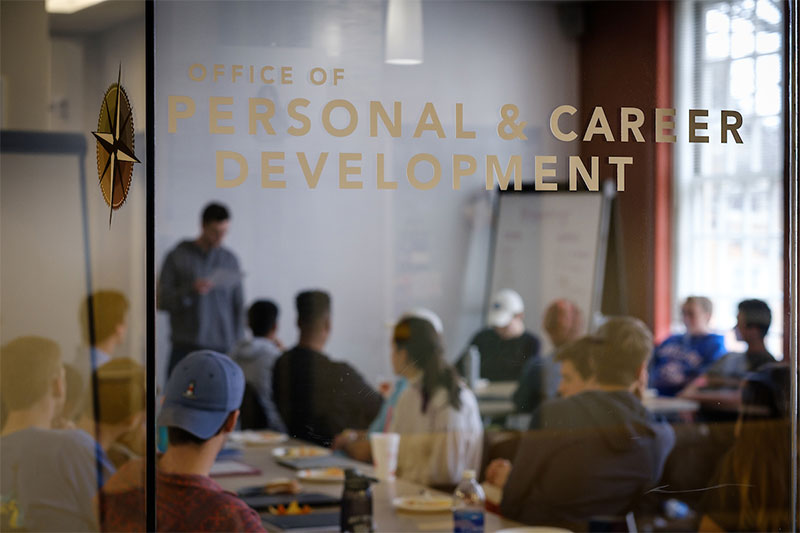 College-to-Career
One of Dr. Hatch's hallmarks as a leader is building strong teams. In 2009, Andy Chan joined the President's Cabinet and has transformed the Office of Personal and Career Development into a place where students – from their first day on campus – are guided not just to their first jobs but to purposeful careers.
---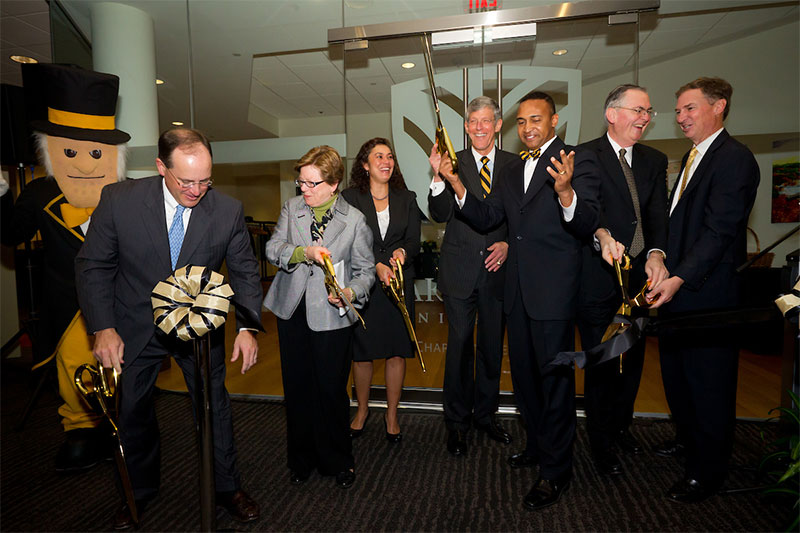 Charlotte Center
Wake Forest extended its footprint beyond Winston-Salem with the opening of a 30,000-square-foot center in Uptown Charlotte that houses part-time MBA education, certificate programs and summer immersion experiences for high school students.
---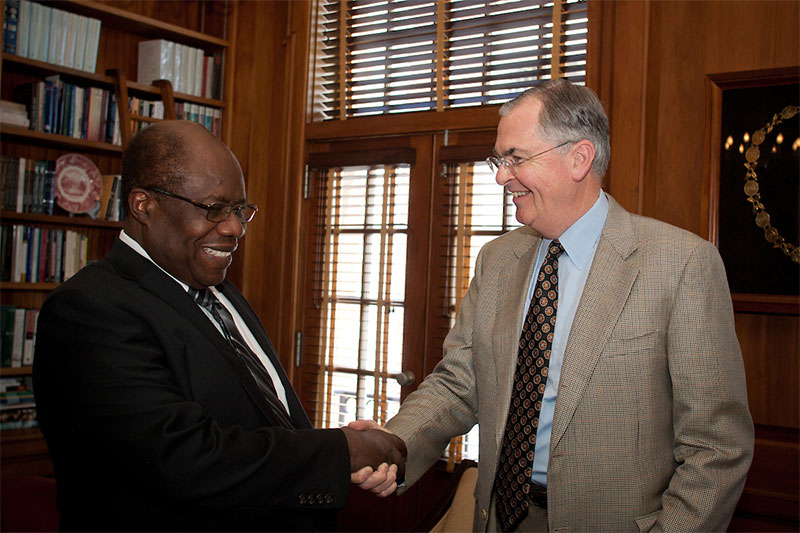 Celebrating "Faces of Courage"
Dr. Hatch led Wake Forest's efforts to mark the 50th anniversary of integration in 2012. He welcomes Ed Reynolds ('64), the first black student, back to campus in the signature event of the Faces of Courage project, held on Sept. 20, 2012. Reynolds, a native of Ghana, made Wake Forest the first major private university in the South to desegregate, and he became a distinguished history professor in California.
---
Create, Educate and Inspire
Wake Forest launched Wake Will: The Campaign for Wake Forest, on Oct. 17, 2013, with an original goal of $600 million for the Reynolda Campus. The effort gains such momentum that it meets the original goal two years ahead of schedule, in 2016. Sensing the opportunity for further impact, Dr. Hatch announced an extension, and in 2020, Wake Forest celebrated surpassing $1 billion in philanthropic support.
---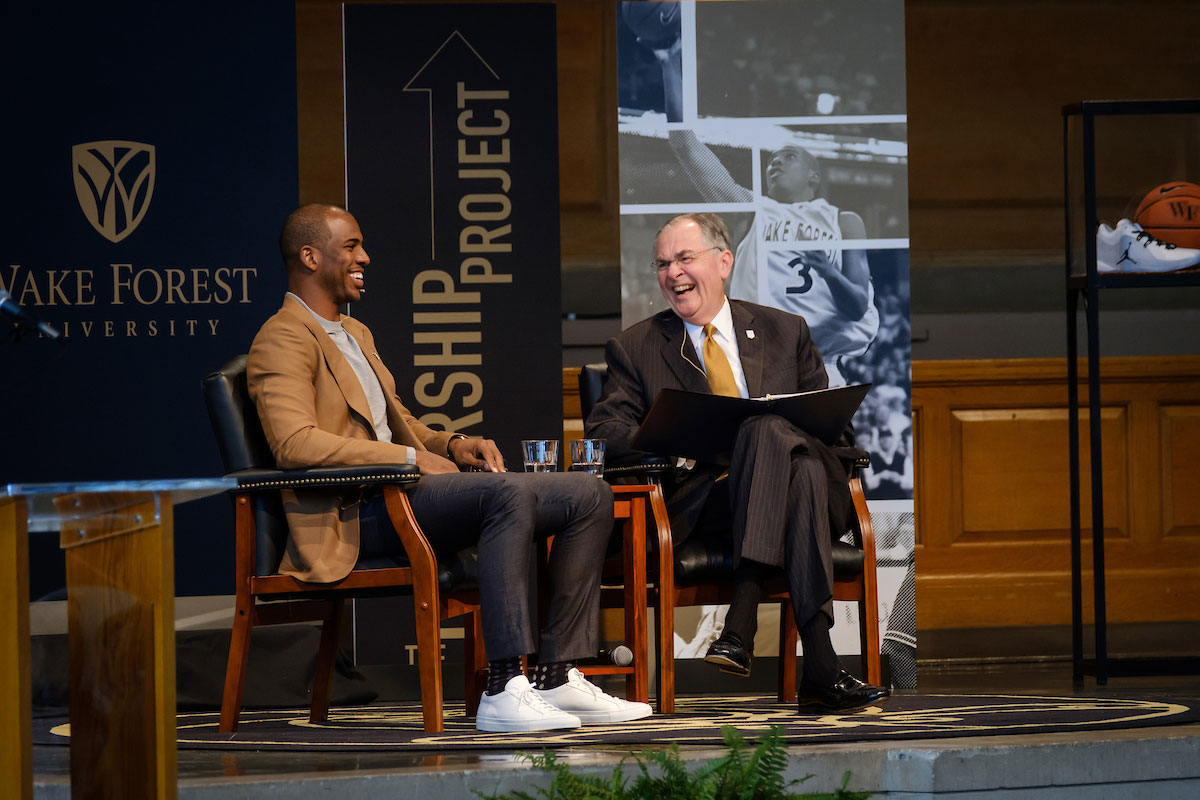 Leadership Project
Under Dr. Hatch's direction, Wake Forest created The Leadership Project in part to engage the campus community with inspiring stories of leaders from diverse professional paths, generations and diverse worldviews. The initiative welcomed its first guest, acclaimed football coach and philanthropist Tony Dungy, on March 26, 2014. Other speakers have included Charles Best, CEO of DonorsChoose.org, former U.S. Rep. Donna Edwards ('80) and NBA star and philanthropist Chris Paul ('07).
---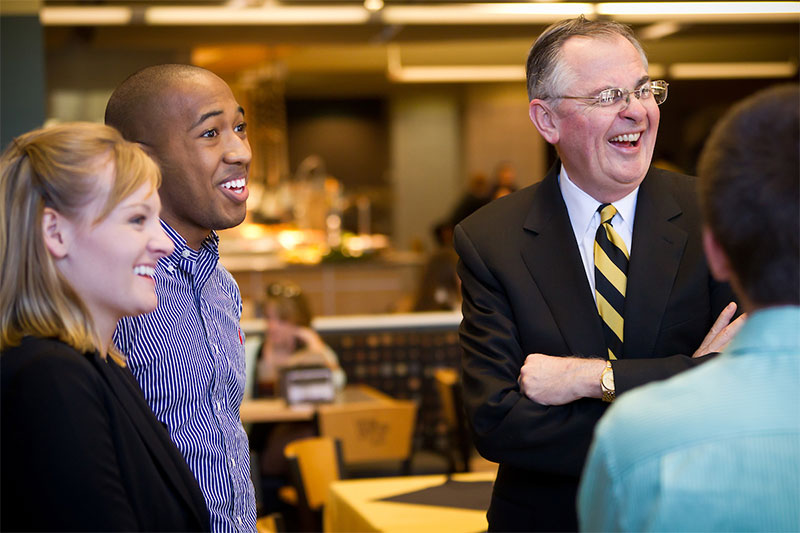 President's Fellows
Known as an accessible leader, Dr. Hatch regularly meets with student leaders and has created a President's Fellowship that invites recent graduates to extend their Wake Forest experience by working alongside a University administrator for a year.
---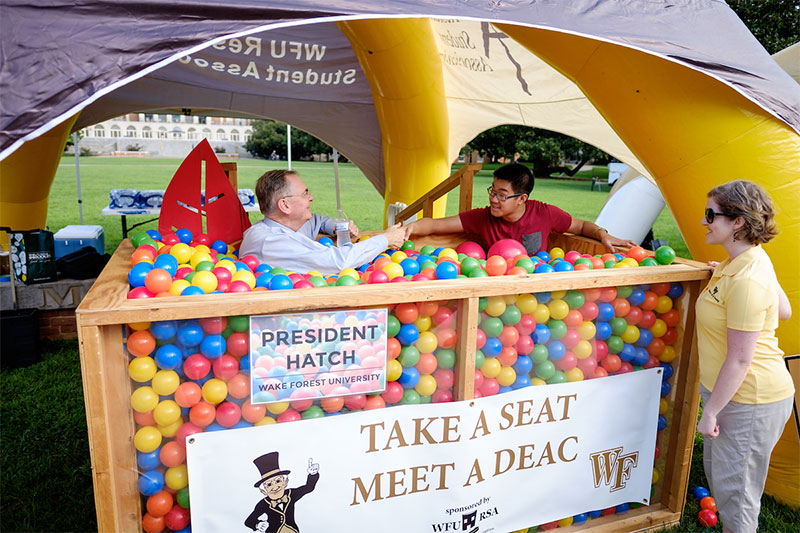 Meeting for the First Time
Move-In Day is a major moment for new students and their families. On Aug. 21, 2015, the president of one of the nation's foremost universities answered questions from incoming students for more than an hour in an undeniably unique venue.
---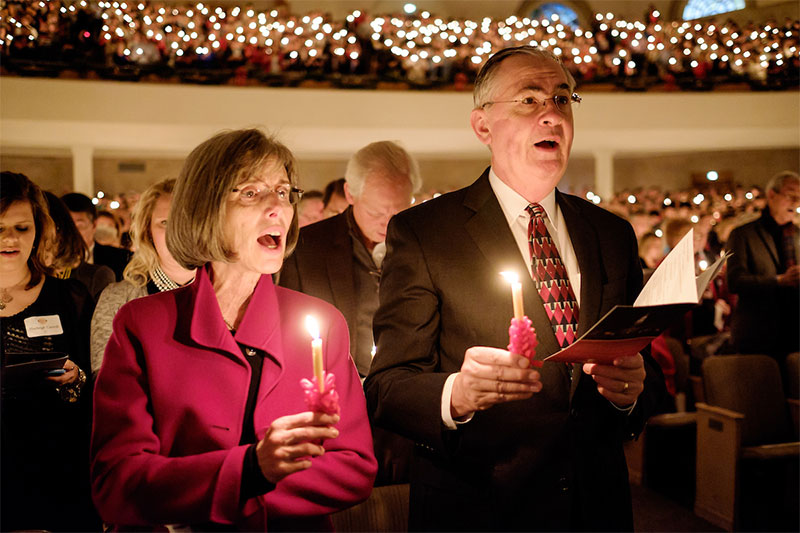 Radically Traditional
Dr. Hatch and his wife, Julie, sang a hymn at Wake Forest's 50th annual Lovefeast, North America's largest gathering of the Moravian tradition, on Dec. 7, 2014. Nearly 10,000 people participated in the event either in person, via live webcam broadcast or by holding their own Lovefeast with kits mailed to them.
---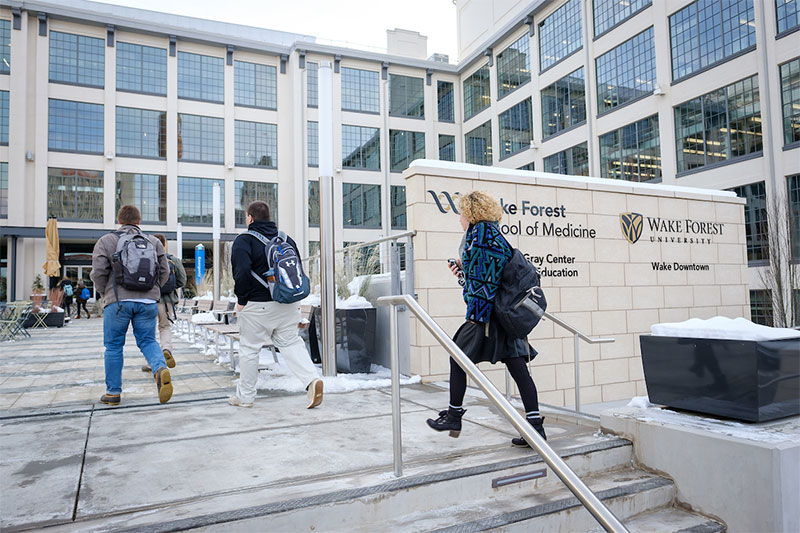 Radically Innovative
Wake Forest seized an opportunity to convert tobacco warehouses into new biomedical classrooms and labs, which opened to students under the name Wake Downtown on Jan. 11, 2017. Along with the new space came forward-looking degree programs and nationally distinctive academic collaboration between undergraduates and medical students. In addition to the biomedical offerings, Wake Forest College creates a new engineering program with a liberal arts backbone.
---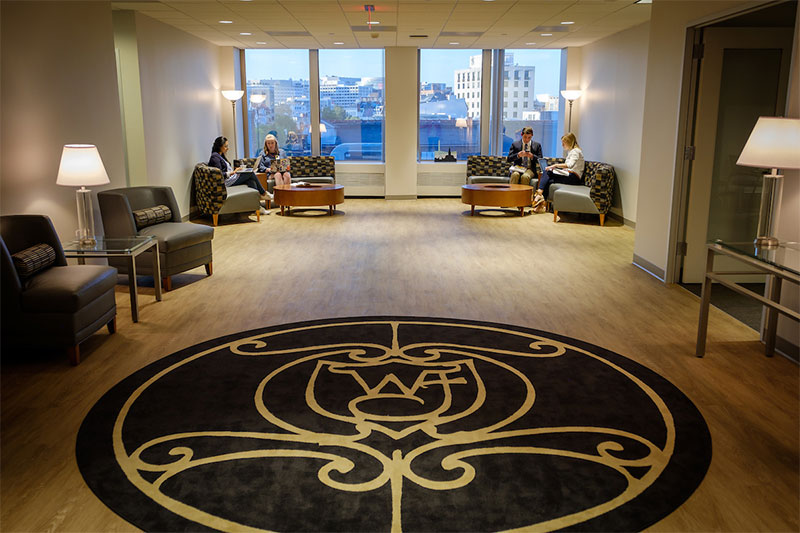 Wake Washington
Wake Forest opened its academic program, now known as Wake Washington, in the nation's capital. The newly leased space on Dupont Circle opened during the Fall 2017 semester. Students take classes with a faculty member and work four days a week in internships throughout the city.
---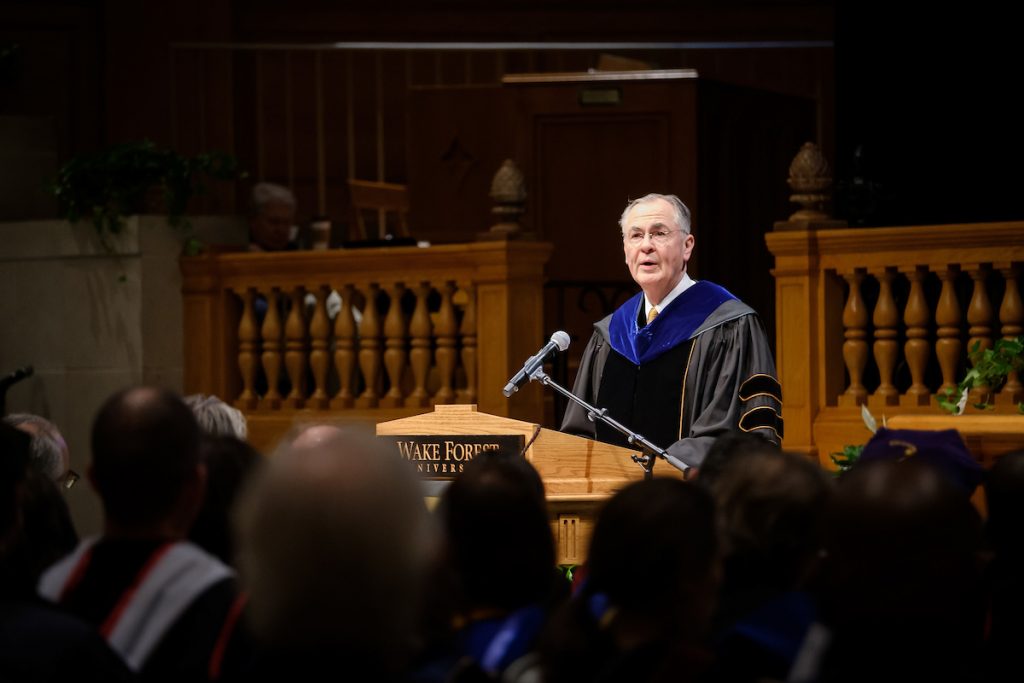 President's Commission on Race, Equity and Community
President Hatch established the President's Commission on Race, Equity and Community, one part of a larger institutional effort to illuminate the University's history, address its present and reaffirm its commitments for the future. On Feb. 20, 2020, President Hatch acknowledged the University's participation in the institution of slavery, and he offered an apology for how Wake Forest benefitted from the labor and sale of enslaved people.
---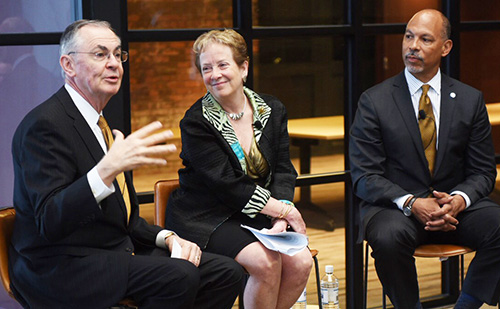 Atrium Health merger
Atrium Health and Wake Forest Baptist Health, including Wake Forest School of Medicine, officially joined together as a single enterprise, Atrium Health. The collective vision is to transform medical education, expand patient-centered research and innovation, and define the next generation of clinical excellence.
---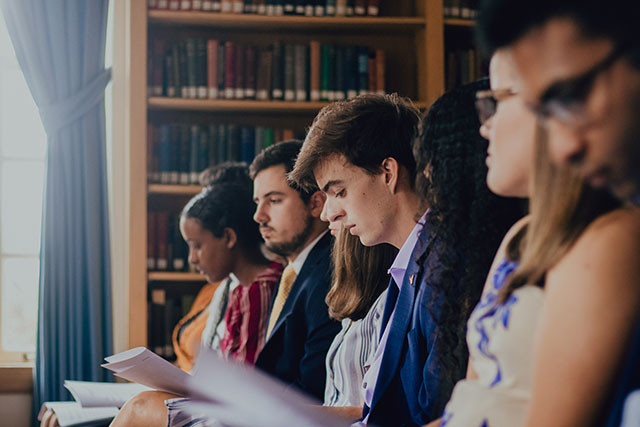 Program for Leadership and Character
Wake Forest is distinguished by our mission to educate the whole person. In 2019, President Hatch created the Program for Leadership and Character to elevate character in the development of future leaders. This innovative program combines academic research, coursework, mentorship, real-life experience, individual accountability and community involvement to cultivate student leaders who will continue to serve as role models and values-driven leaders in their personal and professional communities.
---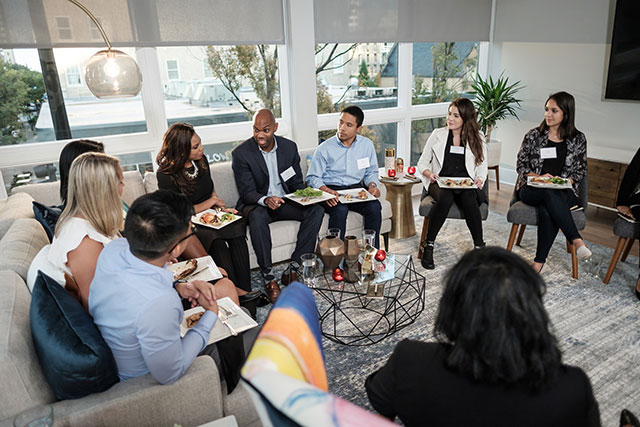 Call to Conversation
Honest, personal engagement has always been at the heart of the Wake Forest experience. On September 14, 2018, President Hatch launched the Call to Conversation program, which features moderated, small-group discussions, usually over a meal, on a single, meaningful topic. Call to Conversation has connected hundreds of students on campus and thousands of alumni, parents and faculty across the globe. The program has evolved into a signature Wake Forest experience and earned national recognition for building community and mutual respect.