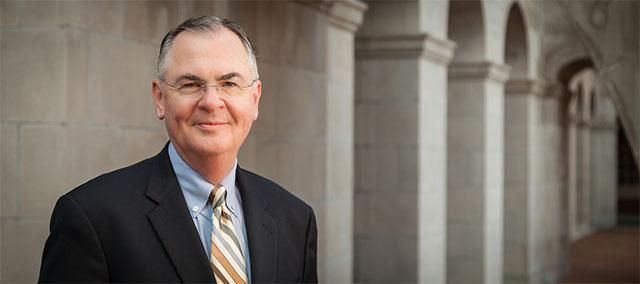 Nathan O. Hatch
Dr. Nathan O. Hatch became Wake Forest's 13th president on July 1, 2005, and retired on June 30, 2021. While at the helm, U.S. News and World Report named Wake Forest 23rd among 281 national universities – the highest ever ranking for the University.
His time leading Wake Forest was characterized by achievements on five fronts: 1) clarifying Wake Forest's mission and strategic plan, 2) assembling a remarkable team of leaders, 3) making significant realignments in business and medicine to better position the University, 4) undertaking bold initiatives to make standardized tests optional for applicants, develop new programs to educate the whole person, reinvent the 21st-century liberal arts education with personal and career preparedness a key focus and build greater community through a three-year residency requirement, and 5) leading Wake Will: The Campaign for Wake Forest, the largest fundraising effort in the University's history.
The strategic plan, approved by the Board of Trustees and embraced by the college community, strengthened Wake Forest's position as the nation's premier "collegiate university." This approach to education integrated an undergraduate liberal arts tradition with the vitality of a research university.
"I am convinced that Wake Forest can claim a very special — even extraordinary — place in American higher education," Dr. Hatch says. "I have learned in my time here that Wake Forest is a deeply personal place, dedicated to community and face-to-face interaction. We help students connect who they are with what they do, helping them to find meaning and purpose in their lives and work."
Additionally, Dr. Hatch completed a master planning process to ensure the physical development of the campus is aligned with the University's strategic goals. That plan also takes on important challenges in making the campus more sustainable. Wake Forest completed a 10-year, $625 million construction effort that reflected the institution's commitment to offer the best residential college experience in the country. Wake Forest celebrated the grand openings of the Sutton Center, McCreary Field House and a new building for the health and exercise science department; finished the comprehensive transformation of Reynolds Gym; completed a next-generation South Campus residence hall; and extensively renovated several of the 1950s residence halls surrounding Hearn Plaza.
Under Dr. Hatch's leadership, Wake Forest also completed two major integration projects. Wake Forest's separate undergraduate and graduate business programs were combined into one under the leadership of Steve Reinemund. Farrell Hall houses the School of Business. Dr. Hatch also was instrumental in merging Wake Forest University Health Sciences and North Carolina Baptist Hospital – each with revenues of some $1 billion – into a single entity with common management under a single CEO.
Beginning in 2017, new academic programs in Biomedical Sciences and Engineering anchored Wake Forest University's undergraduate presence, referred to as Wake Downtown, in Wake Forest Innovation Quarter. The decision, under Dr. Hatch's leadership, to literally and figuratively bring medical and liberal arts education together under one roof represents one of the most audacious efforts to reimagine undergraduate science education as we know it.
With the idea that leadership starts at home, Dr. Hatch assembled a remarkable team of academic and administrative leaders. Throughout his academic career, he was drawn to challenges that involve people and building organizations. "A university is a very complicated organization in modern society," he noted, "and it is critical to have outstanding leaders in all spheres, from academic programs to athletics, from investments to student development."
Dr. Hatch also undertook bold steps to make the Wake Forest experience more personal and to challenge students to lead lives that matter. A student can apply to Wake Forest without standardized tests, but all applicants are encouraged to have a personal interview. Regarded as a national leader in rethinking the college to career experience, Wake Forest has been at the forefront of transforming the traditional, outdated concept of "career services" into a holistic, four-year approach to personal and career development. In a world that was increasingly linked via technology, Dr. Hatch emphasized the art of face-to-face connection. In implementing a three-year residency requirement, he built a greater community by ensuring there are opportunities to collaborate, engage in conversation and solve problems together.
In one of Dr. Hatch's boldest moves, he publicly launched Wake Will: The Campaign for Wake Forest, the largest fundraising effort in the University's history which provides student, faculty and facility support. The campaign raised more than $1 billion over 10 years.
"With this investment, we will strengthen our ability to provide opportunity for worthy students, we will forge an even stronger community of learning, and we will extend our reputation in American higher education," Dr. Hatch said. "We have the ability and the will to step forward and confront the challenges of our time. My vision for the future of Wake Forest is that we may prepare students to lead lives that matter for generations to come. This is our calling, our purpose, our mission."
Dr. Hatch was an active leader in American higher education and in local and community affairs. He has served on the board of the American Council on Education and was Chair of the Division I Board of Directors of the NCAA. He is a past chair of the board of directors of the National Association of Independent Colleges and Universities. In 2014, the American Academy of Arts and Sciences elected Dr. Hatch among its newest members. He has also been very active in community development in Winston-Salem. A board member of the United Way of Forsyth County, he also served as Chairman of the 2010 United Way Campaign.
Often described as affable, approachable and a lively conversationalist, Dr. Hatch established a strong rapport with students; he could occasionally be found taking a coffee break with them at Starbucks in the Z. Smith Reynolds library or having lunch in the Pit. He made an early positive impression when he arrived at his student-sponsored Inaugural Ball on the back of a motorcycle driven by the Demon Deacon.
He and his wife, Julie, a former public school teacher, have three children: Gregg, a 1997 graduate of Notre Dame, works in residential real estate in Seattle, WA; David, a 2000 Notre Dame graduate, received an MBA degree from Duke University in 2007 and works in finance in Charlotte, NC; and Beth, a 2007 graduate of Notre Dame, who earned her Master of Divinity at Duke Divinity School in Durham, N.C. in 2015. The Hatches also have eight grandchildren.
Dr. Hatch grew up in Columbia, S.C., where his father was a Presbyterian minister. A graduate of Wheaton College in Illinois, he received his master's and doctoral degrees from Washington University in St. Louis and held post-doctoral fellowships at Harvard and Johns Hopkins universities. He joined the faculty at Notre Dame in 1975. He was named provost, the university's second highest-ranking position, in 1996; a Presbyterian, he was the first Protestant to ever serve in that position at Notre Dame.
He is regularly cited as one of the most influential scholars in the study of the history of religion in America. He received national acclaim for his 1989 book, The Democratization of American Christianity, in which he examines how the rise of religious groups in the early 19th century helped shape American culture and foster democracy. The book was chosen in a survey of 2,000 historians and sociologists as one of the two most important books in the study of American religion. He is also the author or editor of seven other books on American history.